What better way to get a feel for what the Prosperity U Global Summer experience is like than a first-hand account from a student who recently participated in the program. Meet Stephanie Dutson, a master's student studying International Affairs and Global Enterprise. Hear what Stephanie has to say about her experience and why you should already start thinking about joining us in Ghana for the summer 2024 term.
As a master's student studying International Affairs and Global Enterprise, I have spent much of my academic career abroad as an intern or a student in a study abroad program. However, before my time in Ghana, I had yet to travel to the continent of Africa. My time in Ghana was so much more than a once-in-a-lifetime experience. Not only did I gain a new perspective on the world, but I also established for myself a new way of looking at everything around me. My life will be forever changed by my time in Ghana.
A highlight of the time I spent in Ghana is centered on my interactions with its people. I was able to work with and establish lasting friendships with several Ghanaians. Living on campus at Ensign Global College allowed me to meet and connect with experienced local staff members, who warmly welcomed me into their culture. I learned how to cook some of my favorite Ghanaian dishes and speak a few words in the local dialect. I also loved being a part of a student group from the University of Utah. Having other students and mentors to share my experience with helped me absorb and remember all of my feelings and experiences while in Ghana. I quickly felt at home as I was surrounded by kind, supportive, and genuine individuals.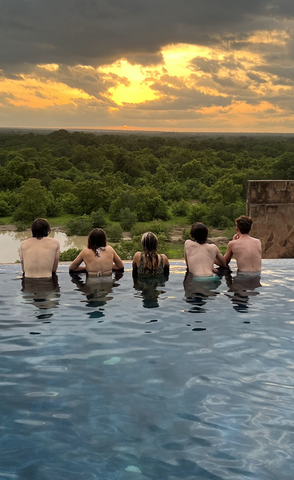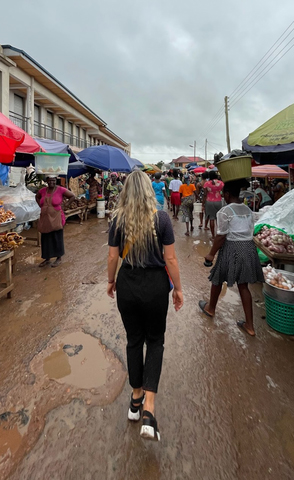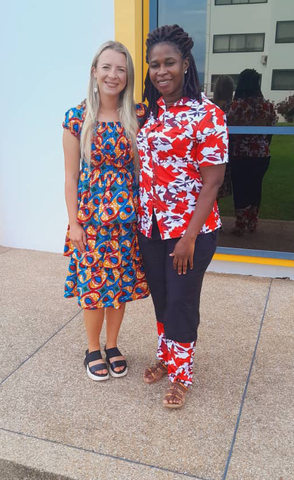 Students enjoying the view at Zaina Lodge in Mole National Park (left).
Stephanie exploring the Akosombo Market on a rainy summer day (center).
Stephanie and one of her friends at Ensign Global College (right).
I also loved being able to explore the natural landscapes of Ghana. Hearing the waves crash onto the shores of Cape Coast, breathing in the fresh forest air in Mole National Park, feeling the humidity and warmth from the sun on my skin, and seeing the magnificent animals roaming the different regions of Ghana made for an unforgettable experience.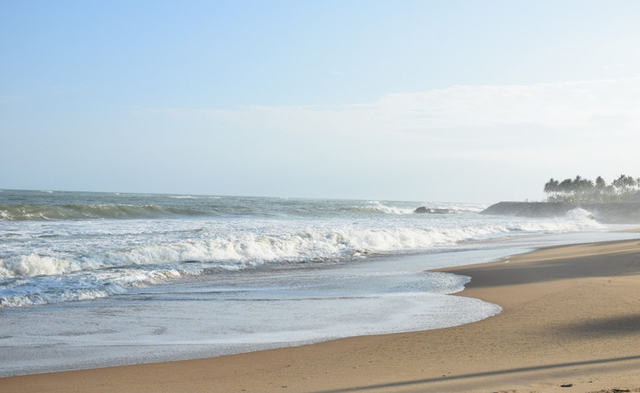 Along with seeing the beautiful landscapes of Ghana, I had the unique opportunity to work in local communities. Much of my time in Ghana was spent collaborating with other students on an assigned project. Our project was in relation to a program called Health 2 Go, which is a community-based healthcare program that has been implemented in two areas in Ghana. I was assigned along with the rest of the students in my group to assist in a pilot research study involving the impact of Health 2 Go. We spent a significant amount of time in local communities collecting data on the demographics and health of children in the area. This pilot study provided suggested improvements to the research collection process and paved the way for the official research study, which will occur later this year. Meeting local community members, nurses, children, mothers, and members of households was a special experience. I was able to experience first-hand Ghanaian culture and see what everyday life in Ghana is like.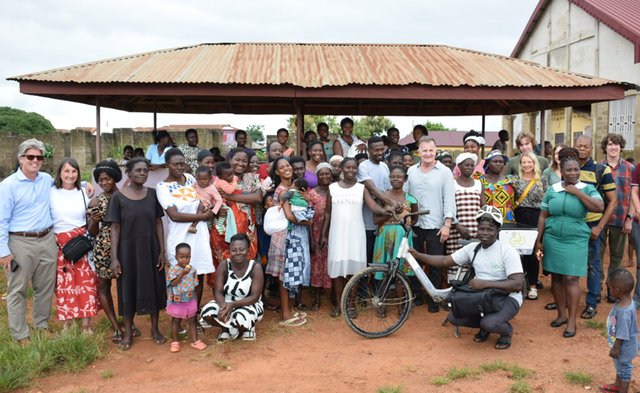 The time I spent in Ghana has already reshaped my ideas, hopes, and goals for my future career and opened my eyes to see the impactful work that is going on throughout the world. Not only did my academic understanding of international affairs, health, and development increase, but my understanding of cultures, people, and life was significantly altered as Ghana became another place for me to call home. My experience in Ghana was priceless, and I will forever see the world through a new pair of eyes.