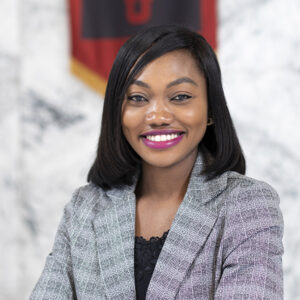 When Anastasia Fynn, the University of Utah's Director of International Student & Scholar Services (ISSS), first came from Ghana to the U.S., her goal was to attend law school. She landed a job at an international student office, trying to make money to achieve her dream. That job turned into a calling and she hasn't looked back. 
Fynn quickly discovered that she loved the work. "I learned as much as I could. It became my thing. I thought 'This is going to be my career.'"
As an immigrant herself, Fynn had been given a unique opportunity to help pave the way for other international students.
Fynn kept building her resume, working for Strayer University, the Fairfax University of America (formerly Virginia International University) and then as the Director of Embry-Riddle Aeronautical University's International Student Office.
When she came to the University of Utah in 2022, Fynn noticed that the ISSS staff could go to the cafeteria and do their own things "unnoticed, unbothered." This was foreign to her. "U students don't seem to know who the ISSS officials are." That's something Fynn would like to change.
"I don't want students to only see my office when they have immigration-related problems," she said. While visa compliance will always be a critical part of the office's work, Fynn is determined to expand ISSS to be more student-life-centered.
This spring, she hired additional staff focused on outreach and engagement and is working with her ISSS team to build programming to better support international students in all aspects of their university experience.
Making Student Orientation Memorable
When international students first come to the U, they attend a special ISSS Orientation. (While domestic students learn about services on campus and how to navigate their first year at orientation, international students have the additional challenge of learning how to maintain the paperwork and requirements to keep them in government compliance with their visa.)
"In the past, the session was heavily focused on compliance and didn't extend to cultural assimilation and integration into the U campus," said Fynn.
Going forward, ISSS will make its orientation more engaging by integrating tours, social experiences, and insight into the U's campus culture.
Laura Bisbee, the office's new International Student Experience & Operations Manager, said, "International students are always told what they can't do. They already know the limitations they will face as a student in the U.S. I want their experiences on this campus to be like, 'Okay, these are all the things I can do!'"
Ultimately, ISSS hopes these changes will encourage international students to foster relationships not just with the Office, but with other U students, faculty, and staff—both domestic and international.
Increasing Access to Advisors
All colleges within the University of Utah have academic advisors, but the ISSS advisors are well positioned to serve international students and the unique challenges they face.
Currently, students can meet with a member of the ISSS advising team if they make appointments online, but if they drop by the office, they can only talk to student advisors.
"I want to open new avenues for students to reach our office," said Fynn.
To that end, beginning in Summer 2023, ISSS will maintain open office hours for three hours each day. Students can walk in and talk to a professional ISSS advisor without an appointment.
Fostering Social Support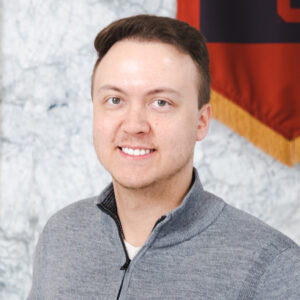 "Students might need help making friends, or navigating U.S. culture, more than getting paperwork signed," said Fynn. To meet these needs, ISSS will be bolstering their social networking activities.
Daniel DeBry, ISSS's new Orientation & Student Engagement Coordinator, remembers his experience as a U student.
"The University of Utah is a commuter school, and during the first half of my schooling, I lived very far from campus," said DeBry.
"I would go to my classes and, when they were done, I didn't really look around for things to do. I just walked to my car and went home. My lack of involvement made for a very different college experience than what I had heard of. In hindsight, I can see I wasted an opportunity, but at the time I wasn't aware of the things I could have been involved in."
DeBry now wants to ensure that international students don't make the same mistake.
"I want international students to know about the social activities on campus, especially those ISSS will host," said DeBry.
With DeBry's addition, the office is now strengthening its communication with students through social media and its website, and planning workshops, peer-mentoring sessions, leadership conferences, and social events like Global Beverages Hour to foster more interaction between international and domestic students.
Supporting Faculty & Students in the Classroom
ISSS is also planning workshops for U faculty to help them better understand international students' experience in classroom settings.
"I want to support faculty in navigating the reality that depending on where you are from, education looks very different," said Fynn.
She offered the example that "Our professors are trained to encourage vocal inquiry and interaction, but in some education systems around the world, asking questions or being vocal is a sign of disrespect. Silence does not always mean that the student does not know what you are talking about."
Through these workshops, ISSS hopes that they can support an educational environment where students feel welcomed and accepted, and faculty feel supported in navigating an increasingly intercultural classroom.
"One of the privileges of being an international student is the opportunity to create a very global network of people that will support you through life. We want to actively foster that, and for the U to be a transformative place where those life-long connections spring to fruition," said Fynn.
If you are an international student, be sure to follow ISSS on social media (Facebook & Instagram) to keep an eye on upcoming events and opportunities for engagement. More information will also be posted on the website.
If you wish to share suggestions for how ISSS can support U students, please reach out to Anastasia Fynn.