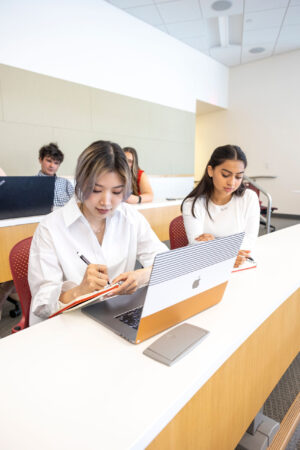 Sophomore-level courses will be arriving at the campus in Incheon, South Korea beginning in the Fall 2023 semester. This comes as good news to the Salt Lake City campus's upper-class business students, who will be able to take their required upper-level major courses while staying on track to graduation—all while enjoying an exceptional international experience.
In the Fall 2022 semester, the University of Utah Asia Campus began offering major courses in Accounting and Information Systems as a part of the David Eccles School of Business's official launch at the U's campus in South Korea.
Courses including Foundations of Business and Introduction to Business Economics were launched first for freshmen students enrolling directly in the U Asia Campus from South Korea. Now, as the programs prepare to meet their one-year mark, the Eccles School of Business plans to roll out several new courses for undergraduates from the Salt Lake City campus looking to study at the U Asia Campus.
The Information Systems (IS) program at the Asia Campus initially began as a summer program for students completing an IS minor. Beginning in 2021, small cohorts of IS minor students visited South Korea each summer to take relevant coursework while visiting iconic Korean locations and learning about the country's rich culture.
"My experience at the U Asia Campus has benefited me in so many different ways," says Logan Marr '22, who participated in the first IS minor program, "it gave me a global perspective that helps me better understand economic factors and improves my interaction skills with people from different cultures."
Professor Chong Oh, Director of the Undergraduate IS Program, expressed his excitement toward diversifying the program's student body and program offerings. "This partnership will bring a unique perspective to our campus and enhance the learning experience for all students. It is sure to bring many opportunities and benefits to our department and institution as a whole."
Meanwhile, the Accounting program is a brand new addition to the Asia Campus curriculum. Speaking about the exciting new venture, Professor Marlene Plumlee of the School of Accounting says, "this provides students at the Salt Lake City campus with the opportunity to interact and work with a broader, more diverse group of students. An international experience broadens students' views of the world and enhances their experiences in the classroom."
Indeed, the U Asia Campus experience is truly one-of-a-kind. Students from the Salt Lake City campus are able to apply easily through the Learning Abroad office, after which they can take as many semesters as their course schedules allow in South Korea.
Salt Lake City students pay in-state tuition rates regardless of their Utah residency status for up to two semesters, and most scholarships and financial aid are transferred directly. On-campus housing rates are affordable as well, priced at under $1,800 per semester.
What's more, all credits taken at the Asia Campus count toward students' degrees without going through a transfer process, meaning most students do not have to weigh the options between having an international experience and graduating on time—the Asia Campus allows them to do both.
An international experience at the Asia Campus also allows students to learn crucial skills for employment, including cross-cultural knowledge, multilingual proficiency, adaptability to dynamic and unpredictable environments, global perspectives and industry-specific knowledge, in addition to providing access to global networks and connections.
Business students currently at the Salt Lake City campus are strongly encouraged to apply to the U Asia Campus for an invaluable international experience, and to pioneer the David Eccles School of Business's efforts in South Korea.
Application deadlines for the U Asia Campus are:
Summer 2023 program: April 23
Fall 2023 semester and academic year: May 1
Spring 2024 semester and calendar year: November 1
Learn more about the U Asia Campus at asiacampus.utah.edu.
Watch President Taylor Randall's announcement of the IS and Accounting programs launching.