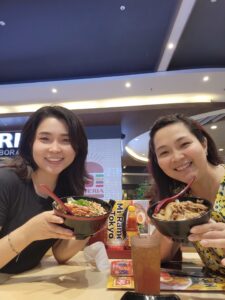 Hinckley Global Internships are a great way for students to live abroad while gaining invaluable work experience. They typically last 10 weeks and are available every semester, but the process requires months of planning, so students need to apply far in advance. 
But, as Bon Lee, a recent Hinckley Global Intern, will tell you, all of that planning pays off with a resume-boosting, memory-making international experience. Read more about Bon's experience below.
What internship did you complete & where?
I interned in Ho Chi Minh City, Viet Nam at the International Organization of Migration (IOM), which is a United Nations organization that promotes humane and orderly migration for the benefit of all. IOM provides expertise and advice to both governments and multinational corporations about migration-related issues.
IOM is a global organization, and it would have been fun to do an internship in their D.C. or NYC office, but I'm really glad that I was able to do an internship in Viet Nam–the location was perfect for me.
I used to live in Viet Nam before I moved to the States, and my parents still live there, so spending time with my parents and reconnecting with my childhood friends was a bonus for me. I also really loved the feeling of being in Viet Nam as someone who was working for the people of Viet Nam instead of feeling like an outsider who was just visiting.
IOM Viet Nam is the managing office for the Corporate Responsibility in Eliminating Slavery and Trafficking (CREST) project in the region (Bangladesh, Nepal, Philippines, Thailand, Cambodia, Hong Kong, India and Malaysia), and the scope of projects that I got to work on helped me get a closer look at how people operate professionally outside of the U.S.
What was the application process like?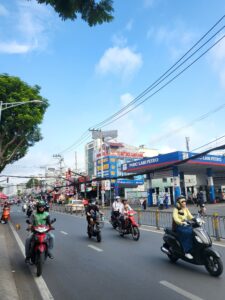 The application process was three parts and very simple. I submitted my resume and cover letter to Jean Oh at the Hinckley Institute; then, Jean submitted it to IOM for me. They let her know that I passed the "first round," and I had to submit another application to the IOM Head Quarters, using their application format. I then had to get medical clearance from a hospital in Utah and submit it to the IOM medical team in Southeast Asia.
Once the medical team gave me the green light, IOM confirmed that I got the internship!
When I found out, I was thrilled to know what I was going to do next, but I didn't think too much about it. After I got to Viet Nam, the person who hired me said that there had been 13 applicants from all over the world, and I was the only one who was hired.
At that moment I felt deeply grateful for the opportunity and excited that I could represent the University of Utah at IOM.
Tell me what an average day in life was like for you in Vietnam?
During the week, I just went to work, came home and cooked dinner for my parents, went to the gym, and then went to bed. Sometimes, I would hang out with my colleagues after work or on the weekends.
I also had to do "visa runs" because immigration messed up my visa when I entered Viet Nam. I had to leave the country once a month to comply with my status. I went to Thailand, Cambodia, Taiwan, and Singapore for these visa runs. The visa situation really bothered me in the beginning, but I'm grateful that it forced me to get out of my comfort zone. For the first time in my life, I was traveling alone. I had to time visa applications and my trips perfectly, so my visa came out before I had to return to Viet Nam. There were so many documents to submit/fill out for the visa application, so I had to make sure that those were taken care of. I reconnected with old friends in these countries, and they connected me with their friends. I made so many meaningful connections that I wouldn't have made if I stayed in Viet Nam.
What did you learn?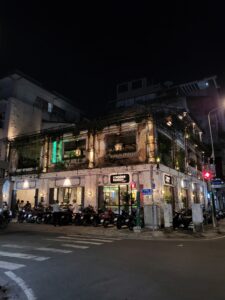 This is a hard question to answer because I learned so much! I learned a lot culturally, technically and professionally from the internship.
As an intern, I thought I would do a lot of administrative work (printing, data entry, etc., etc.), but they didn't let me do any minuscule tasks. They actually made me jump into big projects and gave me as much as I could handle.
I realized through this internship that, generally speaking, the American and Asian work styles are quite different. My colleagues had a certain way of doing things, and it was hard to adjust to that in the beginning. I learned the importance of setting expectations when working in new environments. Once I understood their expectations better, it was easier for me to integrate into the workspace.
Another skill I refined during the internship was copyediting. I have a minor in editing. It's a useful skill to have, especially with a journalism background, but I never had to use it extensively. During this internship, I was given opportunities to copyedit case studies, research, and toolkits for the IOM website. Additionally, I gained an extensive understanding of the IOM style guide, so I feel very confident copyediting publications for IOM.
Was anything difficult about this experience?
I feel like working in a new environment is always difficult. I had a hard time adjusting in the beginning, but it's not any more difficult than other jobs.
Personally, it was hard for me toward the end of the internship because my depression got triggered and I didn't have access to my usual resources to pull myself out of it. It was hard for me to contact my therapist. I couldn't do my usual "gym and friends routine." I didn't have the social support or resources to lean on when my mental health took a turn.
If I stayed in Viet Nam longer, I would have gotten a gym membership and had more friends I could rely on, but since this internship was only three months long, I couldn't establish a routine.
That's something that people who need to be mindful of their mental health should consider when leaving their usual environment for a short-term experience abroad—be sure to set up as many support pipelines as you can just in case you need them!
What would you say to other students considering a similar experience?
I hope that students who are going on these internships will take the opportunity seriously instead of thinking of it as a "side job" they have to do while they are "traveling." These internships can really open doors for you, and your performance can open doors for other U students as well!
Also, living in a foreign country sounds fun, but it is not always easy. There will likely be times when you feel disconnected from the support system you're used to. There might even be times when you feel disappointed with the people or culture of your host country. Things might not always measure up to your expectations.
In these moments, it's important to relax and remember that you will only have a positive experience on your global internship when you decide to have fun and embrace all the things that feel different, no matter how uncomfortable they may be in the moment.
If you can do that, going on a global internship through the Hinckley Institute is sure to be a magical experience.