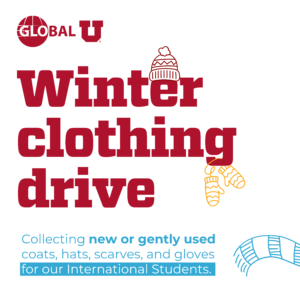 We're still in the sweltering summer days here in Salt Lake, so it's understandable that coats and hats are far from most people's minds. However, Fall semester is just around the bend and winter is soon to follow. And with each new school year comes an influx of international students who have never experienced the chill when the "Greatest Snow on Earth" starts to fall.
The Office for International Students and Scholars will be helping new students prepare for the Utah winter during Fall Orientation this year by distributing cold-weather gear donated by the U community.
You can help the University of Utah international students acclimate to Utah's winter weather by donating new and gently-used:
coats
gloves
hats
scarves
"International students often struggle with the additional costs of purchasing expensive winter wear when studying in chilly climates, especially those who come from warmer countries," said Anastasia Fynn, director of International Student & Scholar Services. Fynn is from Ghana and remembers her own weather shock when coming to the U.S. as a young adult. "It was January in New York. My uncle met us at the airport with a coat over his arm for me. I've never forgotten that gesture."
That spirit of community care is why the office is partnering with the International Admissions Office to collect clothing specifically for international students—many of whom have never experienced snow or freezing temperatures.
"Many of our students rely on public transportation—standing and waiting for a bus can be pretty cold and so I wanted to find a way to make the adjustment to the Utah climate a little easier for students who are new to this weather," said Fynn.
Members of the U campus community are encouraged to donate new and gently used items at the locations listed below through September 15.
Office for Global Engagement: Gardner Commons, Room 3105
International Students & Scholars: Olpin Union, Room 410
Learning Abroad: Olpin Union, Room 159
International Admissions: Student Services Building, Room 250 S (please confirm location)