Many people can relate to travel plans deferred by the pandemic. For Cheri Daily that meant postponing, not once but twice, the opportunity to follow her Fulbright dream all the way to Taiwan.
Daily is the Executive Director of Global Programs and Marketing & Communication for the U Office for Global Engagement and, in 2019, she was awarded the opportunity to participate in the competitive Fulbright International Education Administrators (IEA) seminars program.
"The original timing of the departure was March 2020, so obviously that didn't happen as planned," said Daily. The program was rescheduled, then canceled again by another viral wave. Finally, this March, Daily joined two other (very patient) cohorts of participants and represented the University of Utah in Taiwan for two weeks.
We talked to her about the experience,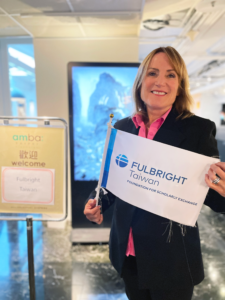 how it brought new energy to her work at the U, and what she would say to anyone considering embarking on their own professional Fulbright experience.
What prompted you to apply for this Fulbright experience?
I have always been interested in the work supported by Fulbright and inspired by its mission to increase collaboration and cooperation between people internationally. I've dreamed of being part of the Fulbright program for a long time.
IEA is a structured program designed for professionals involved in international education. Because it was more condensed than a typical Fulbright experience, it fit with my work and graduate school commitments.
Most of my peers in this program were involved in supporting international students, learning abroad, or global programs and partnerships at their institutions. That made it a fabulous opportunity to connect with like-minded professionals and introduce the U's global goals to a broader audience.
Why did you choose to go to Taiwan?
Taiwan was a natural fit for me. Through my work in the Office for Global Engagement, I have had the pleasure of doing a lot of work in East and South Asia, particularly China, Pakistan, and South Korea, and had heard wonderful things about Taiwan as a country. I thought it would be an interesting experience and would diversify my understanding of the region.
What did your work look like as part of the IEA program?
It was a very intensive experience. Our days were totally booked! We started every day (even weekends) very early and met with universities or set off on interesting cultural experiences.
The program took us to Taipei to meet with a lot of top universities, but we also met with some great universities in less urban areas. It was wonderful to see the diversity of institutions. Meeting with the Taiwanese university representatives helped us understand their institution's strengths, interests in collaboration, and potential partnerships. We engaged with the international offices, and senior administration, and were hosted at dinners so that we could meet their faculty and talk more in-depth.
I was consistently inspired by the continued interest in internationalizing our respective universities and the commitment to building bridges between countries. So much of that bridge-building starts with students. Institutions of higher education are great places for people to open their minds and hearts.
What were your impressions of Taiwan?
Taiwan is a lovely country. It's not only physically beautiful, but the experiences we had, and the people we met, just reinforced a warmth and good feeling.
Fulbright always encourages authentic connections with people and culture, and that approach fostered some incredible moments. We drove into the mountains and spent some time in the area around the Sun Moon Lake, and had a wonderful afternoon in Wulai, the home of the Atayal tribe, where we learned about the culture and even got to try our hand at the beautiful traditional weaving.
There is so much to explore in Taiwan, and we made a lot of incredible memories, but I especially enjoyed the opportunity to understand a little more about the many indigenous tribes in Taiwan.
Why are you drawn to international work?
emotional pause…It feels like the only way you really understand people is to meet them where they live. You can't really match that experience any other way than to go offer yourself to an experience outside of your comfort zone. We all need to have more understanding and compassion for those we share this planet with. Especially right now. It is an honor to contribute to this work.
Would you encourage other U colleagues to apply for similar Fulbright opportunities?
Absolutely. Without a doubt. Professionally, Fulbright IEA expanded my network substantially. And, after two weeks of intensive time together, you get to know people in ways you wouldn't if you were just meeting at a conference. It reinvigorates your perspective and motivation to meet so many other like-minded administrators and reminds us why we love this work.
…
The Fulbright U.S. Scholar Program offers over 400 awards in more than 135 countries for U.S. citizens to teach, conduct research and carry out professional projects around the world.  College and university faculty, as well as artists and professionals from a wide range of fields, can join over 400,000 Fulbrighters who have come away with enhanced skills, new connections, and greater mutual understanding. Learn More.