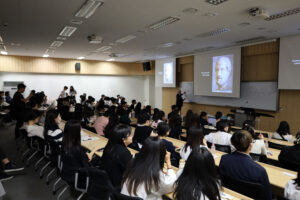 More than 340 people, including 188 prospective students, attended the 12th—and largest–University of Utah Asia Campus UAC Experience Day. The event is designed for middle and high school students to get a preview of life at the University of Utah experience at its campus in Incheon, South Korea.
Visitors participated in two 30-minute English-language lectures in the morning and afternoon by professors from six departments:
Psychology (Dr. Bo Ram Kim)
Film and Media Arts (Dr. Dustin Schwindt)
Urban Ecology (Dr. Reazul Ahsan)
Electrical and Computer Engineering (Dr. Fatemeh Koohestan)
Business (Dr. Byung-Gyu Gong)
Communication (Dr. Paul Rose)
They also received information on career and internship opportunities and had a Q&A session with student ambassadors.
"I was interested in attending the event because I could get an education at a U.S. university at a lower cost than studying in the U.S.," said Hanseo Lim an eighteen-year-old from Chicago. "I want to go to engineering school, so I paid attention to the electrical and computer engineering class, which was quite impressive."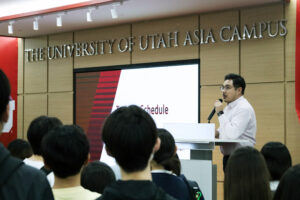 This year's event was the largest on record. "The UAC Experience Day keeps growing, and the number of students participating in the event is increasing yearly," said Prof. Paul Rose in the Department of Communication. "I am very excited to see all these new students. We are so interested in changing their lives and looking to the future."
…
The U Asia Campus is an expanded campus of the University of Utah in the United States. Opened in Songdo International City, Incheon in 2014, the campus offers general education courses and hosts nine majors, including Accounting, Communication, Computer Engineering, Electrical Engineering, Film and Media Arts, Games, Information Systems, Psychology, and Urban Ecology. Students who enroll at the U Asia Campus study in Incheon for three years, then travel to Utah for a year to finish their degree and receive the same diploma as the University of Utah in the United States. U students enrolled through the Salt Lake City campus can also have an impactful international experience at the U Asia Campus, take courses in English from U faculty, and pay in-state tuition for up to two semesters.
Learn more about the U Asia Campus.
Current U Salt Lake City campus student? Here's how you can attend!